Cathedral: The stalls of the 13th and 16th Centuries
Recently restored and open to public view, these 13th century stalls are some of the earliest to be carved. Richly decorated they bear witness to the original dedication of the church to the Virgin Mary.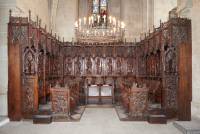 The next to last bishop of Lausanne, Aymon de Montfalcon, created a personal side chapel, known as St Maurice's chapel. These stalls were made in 1509 and are carved in flamboyant gothic style hinting at the beginning of the Renaissance.
When

Throughout the year, except Sundays and Public Holidays (according to availability of a guide).

Time

By appointment

Booking

At least 4 working days before the visit

Departure

In front of the main door (see map)

Length

About 1hour

Price

Prices

Adults :
CHF 75.- 1 - 10 persons,
CHF 5.- per additional person
Children accompanying :
Free
Schoolchildren up to the age 16 in Swiss schools :
Free
Children in other schools and those in higher education :
CHF 50.-
Foreign groups :

Booking 2 weeks ahead
Advanced payment.

Maximum 20 persons per guide

Book

Transport

TL lines :

- Stop Bessières (lines 6, metro M2)
- Stop Riponne-Maurice Béjart (lines 1, 2, 7, 8, 16, 18, 60)

Parking : Riponne or Caroline

Website

Contact

visites(at)lausanne-a-pied.ch
Phone +41-21-320 12 62, Monday-Friday, 8:30-12:00