The bridges of Lausanne
A richly illustrated walk during which you will discover the histories of Lausanne's bridges, from the smallest to the most magnificent.
In the past, 2 small rivers flowed down on the Eastern and Western outskirts of Lausanne, and on which many watermills were built. As the town grew it became necessary to build several bridges. Finally in the second half of the 19th century these rivers were buried and enclosed into underground canals.
As the traffi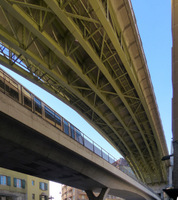 c increased in the late 19th century it became necessary to build wider bridges for more direct links between the town's 3 hills.
Thus one can see how the Grand Pont, the Pont Chauderon and the Pont Bessières built between 1840 and 1913, each using a different technology, blend well into the town's local scenery.
When

Throughout the year, except Sundays and Public Holidays (according to availability of a guide).

Time

By appointment

Booking

Minimum 4 working days before the visit

Departure

Pont Bessières, east side in front of flower shop (see map)

Arrival

Pont Chauderon

Length

About 2 hours

Price

Prices

Adults :
CHF 75.- 1 - 10 persons,
CHF 5.- per additional person
Children accompanying :
Free
Schoolchildren up to the age 16 in Swiss schools :
Free
Children in other schools and those in higher education :
CHF 50.-
Foreign groups :

Booking 2 weeks ahead
Advanced payment.

Maximum 20 persons per guide

Book

Transport

TL lines :

- Stop Bessières (line 6, metro M2)

Contact

visites(at)lausanne-a-pied.ch
Phone +41-21-320 12 62, Monday-Friday, 8:30-12:00