Treasure Hunt or Mystery Tour
You think that you know all about a town...
The aim of this game is to enable one to have a better idea about the history of Lausanne.
The game works as follows: with the help of pictures one has to find a building, or a piece of architecture, relating to an event in Lausanne's history. This treasure hunt is for adults or families with children, and school classes with students from 15 years old.
This is a cours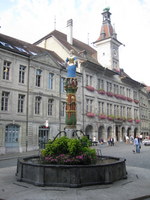 e where one must look upwards (no daydreaming!). It goes from the town centre towards the Cité, passing by the most emblematic places of Lausanne's past. It can be done as a walk of discovery, or as a competition between groups. At the end of the course one can check the replies to the various questions and, if requested, additional information can be obtained on any historical event.
When

Throughout the year, except Sundays and Public Holidays (according to availability of a guide).

Time

By appointment

Booking

Minimum 4 working days before the visit

Departure

Place de la Palud, in front of Town Hall (Hôtel de Ville) (see map)


Length

1h30 to 2 hours

Price

Prices

Adults :
CHF 75.- 1 - 10 persons,
CHF 5.- per additional person
Children accompanying :
Free
Schoolchildren up to the age 16 in Swiss schools :
Free
Children in other schools and those in higher education :
CHF 50.-
Foreign groups :

Booking 2 weeks ahead
Advanced payment.

Maximum 20 persons per guide

Book

Transport

TL lines :

- Stop Riponne-Maurice Béjart (lines 1, 2, 7, 8, 16, 18, 60, métro M2)
- Stop Saint-François (lines 1, 2, 4, 6, 8, 9, 13)


Parking . Riponne

Contact

visites(at)lausanne-a-pied.ch
Phone +41-21-320 12 62, Monday-Friday, 8:30-12:00