Church of Saint-Jean à Cour - a church unlike the others
The detailed visit of this church of which the architecture has been directly inspired by the first paleo-christian basilicas will help you to discover the remarkable fresco of the apse and the decoration influenced by the Renaissance. It is an exceptional example of joint spiritual and artistic influence.
Doctor Albert Schweitzer designed the organ.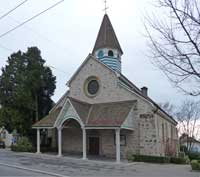 This church was built thanks to the generosity of Marguerite de Loÿs-Chandieu, the Chatelain of Dorigny. She wanted a place in keeping with the principles of Pasteur Jules Amiguet who gathered many people together. His ministry like all his publications were mainly influenced by study of ancient Christian liturgies.
This church shows the complete works of the Vaudois painter, Louis Rivier, whose 100th anniversary of his birth was celebrated in 2013.
When

Throughout the year, except Sundays and Public Holidays (according to availability of a guide).

hours

By appointment

Booking

A minimum 4 working days before the a visit

Departure

In front of the church (see map)


Time

About 2 hours


Price

Prices

Adults :
CHF 75.- 1 - 10 persons,
CHF 5.- per additional person
Children accompanying :
Free
Schoolchildren up to the age 16 in Swiss schools :
Free
Children in other schools and those in higher education :
CHF 50.-
Foreign groups :

Booking 2 weeks ahead
Advanced payment.

Maximum 20 persons per guide

Book

Place

Address : Avenue de Cour 139, 1007 Lausanne

Transport

TL lines :

- Stop Montoie (lines 1, 6)
- Stop Figuiers (line 25)

Contact

visites(at)lausanne-a-pied.ch
Phone +41-21-320 12 62, Monday-Friday, 8:30-12:00