Cathedral : general visit
The gothic cathedral of Lausanne is the biggest and most perfect in Switzerland. Constructed on the city hill it overlooks the town and lake Geneva.
Built in sandstone it was started in 1150, and finished in around 1232. The cathedral was consecrated by Pope Gregory X in 1275, in the presence of the Emperor, Rudolf of Habsburg.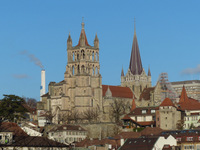 In comparing Lausanne cathedral with the great French ones, it is relatively small though it gives a feeling of greatness, because of the harmony of its proportions.
Its Painted Portal is a unique chef-d'oeuvre of 13th century gothic sculpture and one of the best in Europe.
The Rose window is a rare example as it is based on mystical geometry and not a wheel schema like most rose windows.
The organ installed in 2003, is the first to have been designed by Guigaro an Italian designer. It has 4 principal styles, French classic and symphony, as well as German baroque and romantic style.
Visits on request

When

Throughout the year, except Sundays and Public Holidays (according to availability of a guide).

Days, hours

By appointment

Booking

A minimum 4 working days before the a visit

Departure

Outside in front of the Cathedral (see map)


Length

1h 30 to 2 hours (detailed visit)


Price

Prices

Adults :
CHF 75.- 1 - 10 persons,
CHF 5.- per additional person
Children accompanying :
Free
Schoolchildren up to the age 16 in Swiss schools :
Free
Children in other schools and those in higher education :
CHF 50.-
Foreign groups :

Booking 2 weeks ahead
Advanced payment.

Maximum 20 persons per guide


Without access to the Belfry

Book

Transport

TL lines :

- Stop Bessières (lines 6, metro M2)
- Stop Riponne-Maurice Béjart (lines 1, 2, 7, 8, 16, 18, 60)

Parking : Riponne or Caroline


Website

Contact

visites(at)lausanne-a-pied.ch
Phone +41-21-320 12 62, Monday-Friday, 8:30-12:00