Basilica Notre-Dame du Valentin
Facing the Cathedral, on the opposite side of the Riponne square, the basilica of Notre-Dame is a superb neo-classic building.
The choir has a magnificent fresco by Gino Severini (1883 – 1966), a well-known international Italian artist and futuristic-cubist painter. To see this fresco alone is worth a visit to this church.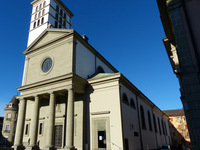 Catholic church services were abolished at the time of the Reformation in 1536, and only practised again in 1798. First services were held in people's houses, then from 1812 onwards in the newly built Temple in the "Mercerie" street and shared with other communities.
The catholic community increased rapidly and saw the construction of a church in a street just off the Riponne square, unfortunately destroyed by a landslide.
It was under the direction of the famous local architect, Henri Perregaux, that the present building was erected in 1832. Consecrated to Our Lady. (Notre-Dame du Valentin), and was the first Catholic Church to be built since the Reformation. The largest Catholic Church in Lausanne, it was elevated to a minor Basilica by Pope John-Paul II.
When

Throughout the year, except Sundays and Public Holidays (according to availability of a guide).

Time

By appointment

Booking

Minimum 4 working days before the visit

Departure

At the foot of the stairs leading to the church (see map)


Length

About 1 hour

Price

Prices

Adults :
CHF 75.- 1 - 10 persons,
CHF 5.- per additional person
Children accompanying :
Free
Schoolchildren up to the age 16 in Swiss schools :
Free
Children in other schools and those in higher education :
CHF 50.-
Foreign groups :

Booking 2 weeks ahead
Advanced payment.

Maximum 20 persons per guide

Book

Transport

TL lines :

- Stop Riponne-Maurice Béjart (lines 1, 2, 7, 8, 16, 18, 60, métro M2)


Parking : Riponne

Website

Contact

visites(at)lausanne-a-pied.ch
Phone +41-21-320 12 62, Monday-Friday, 8:30-12:00